Scilligence Clinical Sample Management (CSM): From Idea to Completed Solution
Scilligence Clinical Sample Management (CSM): From Idea to Completed Solution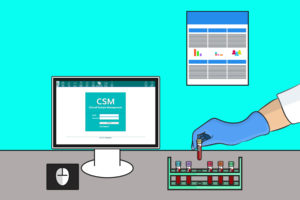 ---
Scilligence recently added Clinical Sample Management (CSM) to its list of informatics solutions for drug discovery and development. CSM is the result of Scilligence joining forces with a customer to understand their challenges and develop an effective solution.
Scilligence works closely with their clients through the development and production of their customizable software. At times, Scilligence will collaborate with clients to build an entirely new solution. Scilligence was lucky enough to be approached by one of their clients to build a new product that can be seamlessly integrated with their other modules or used as a stand-alone application.
CSM was built in conjunction with one of Scilligence's clients to fit the needs of their clinical trial team. Another group at the same company had licensed Scilligence Inventory System for material management and safety compliance. The group was very impressed with the solution and how it accommodated their needs by configuration and customization.
After hearing the group's feedback on Scilligence Inventory, the clinical translation research team met with Scilligence's software engineers to discuss their challenges and needs for clinical sample management. It turned out clinical samples have been handled quite differently from materials in preclinical research. Scilligence decided to develop a brand new system to better address our client's needs for handling multiple workflows and tracking large amounts of clinical samples/data. Scilligence Clinical System Management (CSM) was developed within a few months in close collaboration with the client.
Scilligence CSM is equipped with sample management and tracking as well as subject, trial, and consent-management capabilities. Similar to Scilligence's powerful Inventory system, CSM includes detailed audit history (GCP compliant), powerful search engine, location and shipment management, and a unique barcode system for tracking location and clinical samples. All of these powerful features have been catered to the workflow of clinical research groups.
After the success of the newly implemented CSM, Scilligence decided to create an out-of-the-box version available for purchase. For a full list of features please visit our release page.