Research Companies Are Adopting a Workflow Management System: You Should Too.
Research Companies Are Adopting a Workflow Management System:
You Should Too.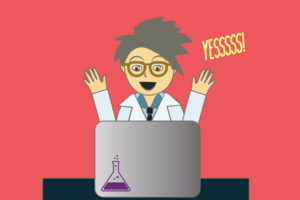 ---
For years companies have been keeping organized using project management software. Companies in various industries have adopted these software practices when they needed a better way to streamline their workflow for tracking progress, assigning tasks, approving requests, managing human resource documentation, and storing financial information.
As life science companies get used to digitalized practices, needs are arising. While common project management software has a lot of features used by employees and employers at all different types of industries, it lacks the scientific capabilities that would truly allow researchers to benefit from using such software such as the ability to search by structures and biosequences.
What's Lacking?
Although there are a lot of software options for project management, like the popular Microsoft Project for example, the market lacks a framework built for the workflow of researchers and scientists and the essential capabilities to perform successfully in a lab setting. Many project management solutions lack real-time data sharing and collaboration, both of which are essential to staying organized and managing projects timely and efficiently. The solutions are typically created only for assumed project managers, making it a learning curve and hard to navigate through without prior training.

What Makes Our Solution Different
Scilligence Project Management Framework (PMF) not only serves as a resource for project managers but also has chemistry and biology features incorporated. Its powerful search capabilities have been popular among chemists and biologists. What PMF can offer is everything in one place. Through its workflow engine, PMF can be easily integrated with any scientific platforms including Electronic Lab Notebook (ELN), Inventory, Registration System and Assay Database (RegMol), and Scientific Data Management System (SDMS), etc.
PMF has the ability to capture emails and automatically sort them so users never have to search fanatically for a document somewhere in their inbox. Real-time data and collaboration is recorded and marked for easy identification. Having the ability to integrate with cheminformatics and bioinformatics software, search molecular databases while also having project management competence with tracking tasks, issues, budgets, requests, and timelines makes our software the perfect tool for managing lab and research projects.
Scilligence software is also fully customizable so users can manage their projects according to their workflow and industry. It is easy to learn making training less time-consuming which leads to saving resources and money. The platform was built by scientists for scientists to better fulfill the unique management needs of companies in biotech and pharma.