Here's Why Your University's Lab Should Go Digital
The Benefits of an Electronic Laboratory Notebook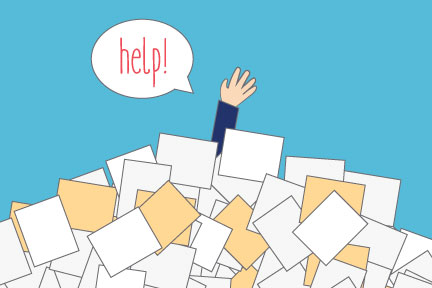 ---
Say "Goodbye" to Those Paper Piles
Trying to find details of an old experiment? How about picking up an experiment from a fellow student and not being able to read their notes? It's time to ditch the paper and consider and Electronic Laboratory Notebook (ELN). With an ELN, you'll have a documented version of each experiment and its history. All experimental records are captured electronically and searchable by chemical structures and keywords. ELNs allow you to seamlessly integrate your workflow. With built-in email functions and witnessing, ELN systems increase knowledge sharing, collaboration, and security. You can integrate ELNs with internal and external databases to search and extract data quickly. Imagine a library of your lab's data that is time stamped and easily accessible? This will save time, cut costs, and improve the productivity of your research.
Electronic Lab Notebooks Make the Lab More Fun
ELNs create a more hands-on, collaborative environment. Not only can students use ELN to provide feedback on a project, they can run the platform on their own devices with a web-based ELN like Scilligence's. ELN also enables real-time sharing of information across different groups/organizations if the university would like to share externally. It's much easier to access the tools you need when you can use the application on any device, plus it puts less stress on the IT team since they don't have to worry about installations.
Increased Security
With an ELN, each lab or research group has its own isolated data access. This means one lab cannot see other lab's data if access is not granted by admin. Paper notebooks can get lost, stolen, or destroyed. ELNs protect your intellectual property and give you ease of mind.
Students Get Familiar with Industry Tools
Industry labs have already adopted digital practices into their workflow, shouldn't academia? When students graduate and enter the real world, they will be using informatics software so why not include familiarity with these tools into the curriculum. Give your students early access to state-of-the-art informatics tools used in industry to prepare them for their careers ahead.
---
As part of our mission to provide the best tools for scientists and researchers, Scilligence believes in investing in young scientists because they will shape our future. Scilligence is proudly donating TouchMol4Office (Enables Cheminformatics and Bioinformatics in Microsoft Office) Standard free to Universities and Colleges. We would love you be part of your students' success.
Contact us today if you are interested in having us donate to your institution.
Scilligence offers special pricing for academia on all products, including its web-based ELN.